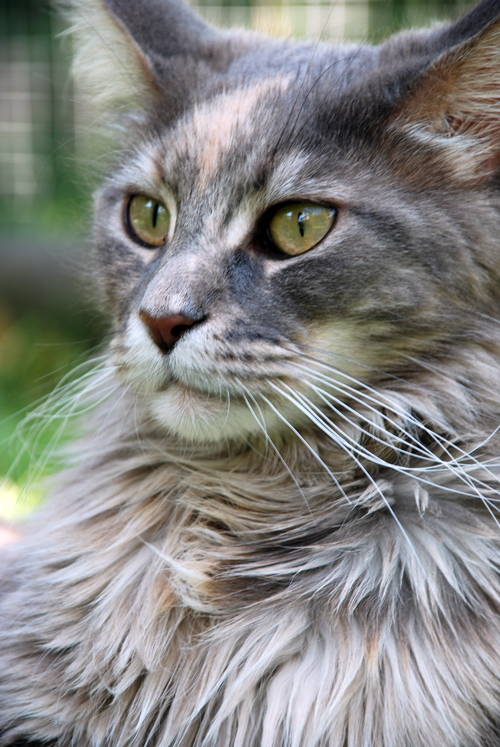 S*Coppermine's Hanky Panky Blues
MCO g22
DoB
2007-04-02
Spayed April 2009
Genotype
A- dd ii ss tbtb ww Oo
Health
Heart (ultrasound)
OK 2008-05-14
DNA
neg/pos
Sire
GIC Incognito of Koi Pond
Dame
S*Coppermine's Hotlips Blues

Showresults

3 x Ex1

1 x BIV

1 x NOM

2 x CAC
Hanky Panky kommer från S*Coppermine's katteri i Partille.
Våra planer var att Hanky Panky tillsammans med vår danska silverprins
DK Castle Rock Rhythm Divine "Joey" skulle bli föräldrar till åtminstone en kull här hos oss.
Tyvärr satte en envis livmoderinflammation stopp för våra avelsplaner
så Hanky får nu njuta av det bekymmersfria livet som kastrat.
Hanky bor tillsammans med sin livskamrat Joey hos Mahlin och Jonas med familj i Nybro.


Hanky comes from S*Coppermine's cattery
Our plans was to mate her with our danish silver prince
DK Castle Rock Rhythm Divine "Joey" but unfortunately a pyometra
put a stop to our breeding plans and Hanky is now enjoying the lazy days as a neuter.
Hanky now lives together with her soulmate Joey together with Mahlin and Jonas & family in Nybro, Sweden.
2 år 10 mån / 2 years 10 months

2 år 8 mån / 2 years 8 months

2 år 4 mån / 2 years 4 months

1 år 9 mån / 1 year 9 months

Hanky Panky 1,5 years

Hanky Panky 1 year

Hanky Panky 4 months

Hanky Panky 4 months

Hanky Panky 4 months

12 veckor/weeks

11 veckor/weeks

10 veckor/weeks

9 veckor/weeks

8 veckor/weeks

7 veckor/weeks

6 veckor/weeks

5 veckor/weeks

4,5 veckor/weeks

4 veckor/weeks

---

Hanky's parents

---

IC Incognito of Koi Pond

S*Coppermine's Hotlips Blues